(BOOK) The Postmaster By Rabindranath Tagore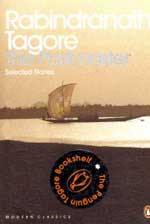 Book Title: The Postmaster By Rabindranath Tagore
ISBN: 0140188541
ISBN-13: 9780140188547
Binding: Paperback
Publisher: Penguin
Language: English
Edition: 1stEdition
Poet, novelist, painter and musician Rabindranath Tagore created the modern short story in . Written in the 1890s, during a period of relative isolation, his best stories???included in this selection???recreate vivid images of life and landscapes. They depict the human condition in its many forms: innocence and childhood; love and loss; the city and the village; the natural and the supernatural. Tagore is ???s great Romantic. These stories reflect his profoundly modern, original vision
About The Author
Rabindranath Tagorewas born in 1861. He was the fourteenth child of Debendranath Tagore, head of the Brahmo Samaj. The family house at Jorasanko was a hive of cultural and intellectual activity and Tagore started writing at an early age. In the 1890s he lived in rural East Bengal, managing family estates.
He was involved in the Swadeshi campaign against the British in the early 1900s. In 1912 he travelled to England with Gitanjali, a collection of English poems, and won the Nobel Prize for Literature in 1913. Tagore was knighted in 1915, an honour he repudiated in 1919 after the Jallianwala Bagh massacre.
In the 1920s and 1930s he lectured extensively in America, Europe, the Far East and Middle East. Proceeds from these and from his Western publications went to Visva-Bharati, his school and university at Santiniketan. Tagore was a prolific writer; his works include poems, novels, plays, short stories, essays and songs.
Late in his life Tagore took up painting, exhibiting in Moscow, Berlin, Paris, London and New York. He died in 1941
William Radice was born in 1951 in London. He is a poet and a scholar and translator of Bengali, and has written or edited nearly thirty books. He has also translated Tagore's short stories and his novel, The Home and the World, for Penguin.